Williams in Wales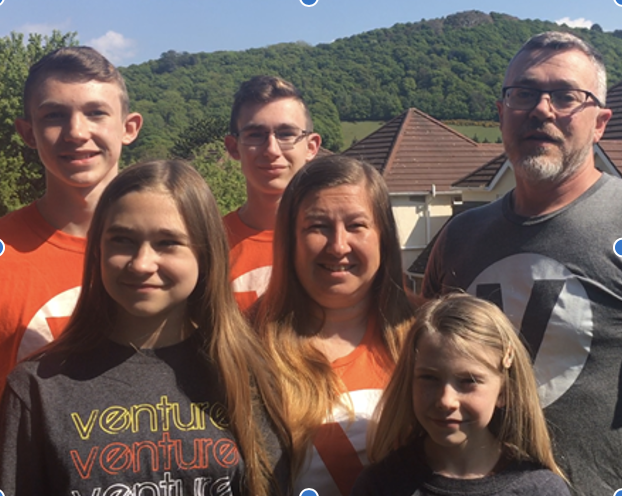 For The Lord is good; his mercy is everlasting; and his truth endureth to all generations. Psalm 100:5
March, 2021
Dear Pastors, Prayer Partners, Family, and Friends,
It is hard to believe we have just passed the one year mark of being in Lockdown. Adaptation and resilience seems to be the two words to live by this year. Shortly after sending out our January prayer letter, the churches we rent decided that in keeping with the Welsh government guidance to "stay home, stay safe" messaging that they did not want us to hold services in their building. This was to be for the rest of the January and February. However, they decided to extend it until the end of March. The news was heartbreaking for our church family. We know many churches in the states have had to make these hard decisions. We pray that God continues to give you the wisdom to do what is best for your congregations.
On our last in person service in January we had three new visitors, it was very hard to say welcome and hope to see you again in 10 weeks. Praise God that through these weeks of lockdown the visitors have been watching our on line services. Richard has been keeping in contact with them via text. Please pray they will join us again at our first in person service on Easter Sunday. Richard received an email early this morning informing us that we are allowed to resume in person services on Easter. Our hearts are filled with joy and thankfulness as we will be able to meet together to celebrate Jesus' Resurrection. Praise be to God!
Looking ahead we are praying that will be able to continue in person services for the rest of the year uninterrupted. We are hoping as the the weather gets warmer to be able to finally hold baptism services. The single mom I (Melinda) have been doing Bible study with has asked to be baptized. She said she had been doubting her salvation. As we spoke more she told me that a few weeks ago she prayed the prayer that Richard puts up at the end of every on line message and accepted Christ as her saviour. Please continue to pray for her as she grows in her faith and for her children to come to know the Lord as their savior.
We are hoping and praying the Welsh and English government will continue to lift more restrictions each month. There are important task we need to get done. We must go to London and renew our passports. Because of Lockdown the US embassy has been closed to nonemergency appointments, the children's passports must be renewed in person. Also Richard is still waiting to take his drivers license test. He is scheduled to take it in late May. Isaiah is scheduled to take his SAT test in May and then the SAT subject test in June. Please pray that all of these task can be completed this summer. We would appreciate your prayers for Isaiah as he takes his SATs. Thank you for your faithful prayers and support for our ministry and family. May you have a Bless Spring!
In His Service,
Richard & Melinda Williams
Because of Lockdown and less traffic this year the mountain goats have come down in Llandudno to wonder around the town. We took this picture on the way to the store.

Prayer Request
We will be able to meet in-person through the year
God will continue to bring new families to our church
Health and safety for our family
Welsh government will relax restrictions
Hearts will be open to the Gospel & turn to Christ
Spiritual growth within our church family
Isaiah's upcoming SAT test
Richard passes his drivers license test
You can donate the following ways:
You can give on line at:
continuetogive.com/Richardwilliams
OR
You can send your donation to:
Titus International
1515 McBrien Rd
Chattanooga, TN 37412
Phone: 423-867-7079
Please leave the memo line blank on checks, send separate note stating for Richard Williams Wales. Thank you!
We are so thankful for each and every financial donor.